For sustainable business success, E-Commerce/Shopping portals need to provide a high level of performance and scalability. SplendorNet develops powerful, Open Source-based E-Commerce portals for global companies that fulfill these requirements and can be flexibly adapted to meet changing market demands.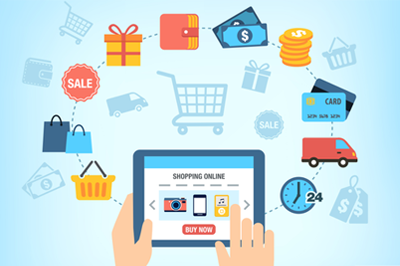 E-Commerce Portal Development Strategy
Enterprise E-Commerce Portals High-performance portals for global corporations
Global Onlineshops Globally rolled out onlineshops, controllable through one instance
B2C E-Commerce Portals High-performance B2C applications for large product offerings and high traffic volume
B2B E-Commerce Portals Process-oriented B2B solutions for the optimization of your business processes
Multi-Retailer Commerce Solutions Customized commerce solutions for key verticals (e.g. malls, airports, etc.)
Multi-Store E-Commerce Sites Multiple language- and country versions
Custom E-Commerce Developments Flexible E-Commerce solutions and applications, customized for your company
Feature List of Shopping
/ E-Commerce Portal
SCHEME/OFFERS/DISCOUNT MANAGEMENT
Scheme Management

Customer registration
Reporting

Product wise offer management
CHECKOUT, PAYMENT, & SHIPPING(OPTIONAL)
Payment Gateway Support
Payment Gateway Integration
One Step Checkout
SSL Certificate
Select Delivery Date/Time and frequency on Checkout
SEARCH ENGINE OPTIMIZATION (SEO)
Google Site Map Creation and Site Map Auto Generation
META Information Management at Product and Category Levels
ANALYTICS AND REPORTING
Admin Report Dashboard
Sales Reports Including Total Sales and Returns
Tax Reports
ORDER MANAGEMENT
Order management - various filters on date, product
View, edit, create and fulfill orders from admin panel
CUSTOMER SERVICE
Contact Us form
Order History with Status Updates
Password Reset email from front-end and admin panel
CUSTOMER ACCOUNTS
Order status and history
Recently ordered items
CATALOG MANAGEMENT
Unlimited Categories
Inventory Management, Minimum and Maximum quantities
CATALOG BROWSING
Contact Us form
Breadcrumbs
WEBSITE MANAGEMENT FEATURES
Dynamic Banner Display Slider
Customize Main Menu
Register/Login User will register/login to the web or mobile app
Product Search Facility to search any product
Order User can place his order and admin will get notification through email as well as on web application
My Order User can view all the orders
Mobile app will run on Android platform
Satkar Has developed an ecommerce portal for me very well. And I am very much happy with the kind of services they provide.
I was looking for shopping portal development in pune. Then I came across Satkar software solution pvt ltd. They make ready my shopping portal in just 4 days. And it is very user friendly.